« Tilbake
Days Inn Harrisonburg
1131 Forest Hill Road I-81I-81 & Port Republic Exit 245 Harrisonburg VA 22801, ,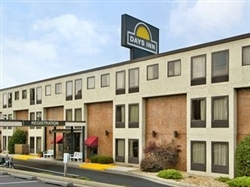 Days Inn Harrisonburg - Beskrivelse
Et hotell avLes mer typen Familie, dette tostjerners hotellet ligger i Harrisonburg. Flere fasiliteter som Romservice, Vaskeri, er tilgjengelig på hotellet. Slapp av i hotellets spa- & velværesenter.Hotellet tilbyr høyhastighetsinternett.Praktisk informasjon:Hotellet har parkering.

Days Inn Harrisonburg fasiliteter og service
Parkering:
Parkering(Finn andre hoteller med Parkeringi Harrisonburg)
Internettilgang:
Internettilgang(Finn andre hoteller med Internettilgangi Harrisonburg)
Generell
Juridiske drikking alder
Safe
Basseng
Fasiliteter
Vaskeri
Fax/Fotokopiering
Romservice
Vurdering fra reisende
Mine kort periode var fryktelig, var vi der i ca 4 timer og måtte sjekke ut.
Kundens vurdering :
Badet var datert og flisen arbeidet syntes shoddy. The breakfast gjorde opp for det med ferske donuts! For lenger av et opphold, jeg definitivt ville gått til andre steder, men med Priceline, får du hvaLes mer du får og for 60 dollar. Rommet reaked av røyk.Skjule
Kundens vurdering :
Dette stedet trenger en stor overhaling. Vi ba om en nonsmoking room.
Kundens vurdering :
Nice badestamp, men litt fuktig i boblebadet, men jeg antar det er å være forventet.
Kundens vurdering :
Det er ingenting å anbefale denne eiendommen for.Some ganger det funker bra å ha noen andre bestille alle mine rom for meg.
Kundens vurdering :
Jeg har bodd på mange andre hoteller som imøtekomme kjæledyr, men dette var desidert den mest ubehagelige opphold.
Kundens vurdering :
Klimaet control didn't work consistently.On til feil. The room was clean. Klimaet control didn't work konsekvent. Den trådløse access arbeidet. Rommet var clean.On til feil.
Kundens vurdering :
Aktiviteter i nærheten
Shopping-område

2,3 km

Harrisonburg Crossing:

Golf og annen type sport

42,3 km

Greystone Golf Course:

42,1 km

Country Club Of Staunton:

2,7 km

Heritage Oaks Golf Course:

31,9 km

Quail Ridge Country Club:

14,5 km

Woodstone Meadows Golf Club:

10,7 km

Packsaddle Ridge Golf Club:

42,2 km

Greene Hills Golf Club The:

32,5 km

Ingleside Of Staunton Resort Country Club:

7,4 km

Lakeview Golf Course:

43,5 km

Waynesboro Country Club:

11,3 km

Massanutten Village Golf Club:

27,1 km

Shenvalee Golf Resort:

39,7 km

Caverns Country Club Resort:

32,6 km

Indian Springs Golf Club:

33,3 km

Ingleside Resort Country Club:

Stadion

1,5 km

Long Field at Mauck Stadium:

1,6 km

Godwin Hall:

Spa og svømmebasseng

946 m

Westover Swimming Pool Complex:

41 km

AMC Lifetime Health and Fitness Center:

27,2 km

SPA 122:

3 km

Healing Touch Wellness Spa, LLC:

3,9 km

RMH Wellness Center:

11,9 km

Bridgewater College:

43,2 km

Waynesboro Family YMCA:

36,4 km

Staunton-Augusta YMCA:

Museum

41,9 km

Luray Valley Farm Museum:

38,5 km

Christian Heritage Center:

28,2 km

New Market Battlefield State Historical Park:

37,9 km

Page County Heritage Museums: